Singles' Day falls on 11 November in China. Since 2009, it has become a 24-hour shopping extravaganza, with international and local brands offering discounts. China's biggest e-commerce company, Alibaba, hit a record $38 billion in sales this year, with $1 billion worth of goods sold in the first minute and eight seconds. The online direct retailer JD.com reported sales of $25.6 billion by mid-afternoon. 'Double 11' has become a well-known reference to Singles' Day, encouraging unattached consumers to buy goods as gifts for themselves.
In 2009 Alibaba first created the 双十一 and 双11 ('Double 11') online promotion on Taobao Mall (now called Tmall). 'Double 11' was an instant success, with other e-commerce platforms such as JD.com and Dangdang following suit with similar promotional activities in 2011.
Alibaba applied for a series of trademarks regarding 'Double 11' from November 2011. Applications included Class 35 for advertising, Class 38 for communications through radio or television programmes and Class 41 for entertainment services. The applications were approved in 2012 and 2013, including the following: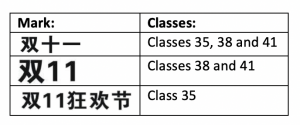 As the 'Double 11' shopping event was approaching in 2014, Alibaba claimed its rights to the series of registered marks by publicly requesting the media not to publish promotional advertisements using 'Double 11' from other e-commerce platforms. This move was objected by competitors, including JD.Com.
From November 2013 JD.com applied for trademarks related to 'Double 11' to promote its own shopping event, including: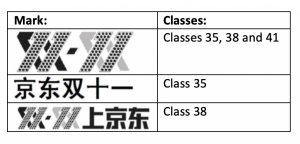 Alibaba filed requests to invalidate JD.com's marks based on its own registrations with the China National IP Administration (CNIPA) in July 2017, shortly after the publication of the registrations (which is when invalidation requests can be filed).
The CNIPA ruled that some of JD.com's trademarks were invalid or invalid in certain classifications, citing that JD.com's marks were similar to Alibaba's registered marks.
Beijing IP Court
The Beijing IP Court announced on 14 November of this year that it had started to hear a lawsuit from JD.com against the CNIPA concerning the five invalidated marks. Alibaba also took part in the oral hearings as a third party.
The court surmised the following issues in the lawsuit:
whether the two companies' trademarks constitute similar marks in relation to identical or similar services; and
whether the co-existence of the two companies' trademarks will likely cause confusion and misunderstanding among consumers, based on whether DOUBLE 11 is distinctive as a trademark and whether Alibaba's prior trademarks have acquired a reputation.
Comparison of the marks: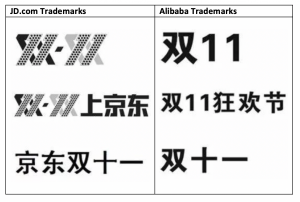 JD.com claims that 'Double 11' has become a generic term for the commercial activities on Singles' Day and thus lacks distinctiveness as a trademark. JD further asserts that Alibaba has never used the marks for the relevant services and, as such, there can be no confusion. JD.com has requested the court to overturn the CNIPA's ruling.
The CNIPA insists on its original ruling, citing that the distinctive parts of JD.com's trademarks can easily be recognised as 'Double 11'. Without paying close attention, the public may consider the marks alongside Alibaba's, which will confuse or mislead consumers. The CNIPA also added that it is improper for JD.com to combine its trademarks with other trademarks.
Alibaba, the third party in the case, argued that DOUBLE 11 was created and used by the company as a trademark and that, through continuous use and promotion, the mark had become synonymous with Alibaba before JD.com's filings.
Alibaba further stated that DOUBLE 11 is distinctive and shall enjoy trademark rights and protection, and that the two companies' trademarks constitute similar marks in relation to identical or similar services. JD.com is illegally using the DOUBLE 11 sign in business operations, allowing consumers to mistake that JD.com is related to Alibaba's DOUBLE 11 brand, which has infringed Alibaba's trademark rights, violated fair competition rules and disturbed the normal market order.
Alibaba also asserts that it has been in direct competition with JD.com for years and, as a rival, the latter has malicious intent to use DOUBLE 11.
Analysis
The court will hand down its ruling at a later date. Despite a lack of access to the evidence presented, the following are possible outcomes in this case.
Comparing the similarity of the two companies' trademarks, and if the evidence given by Alibaba can prove the distinctiveness and reputation of its trademark in the relevant services, it is likely that the CNIPA's ruling will be maintained. However, if evidence submitted by JD.com is accepted and supports its claim that 'Double 11' has become a generic term and the court wishes to balance trademark rights and market order, this could be a favourable outcome for JD.com.
It is possible that the court recognises that the marks are distinguishable and thus no confusion or misunderstanding would be caused, or that it recognises the similarity of the marks but decides that no confusion or misunderstanding would be caused – either of which would overturn the CNIPA's ruling.
It is clear from the CNIPA database that Alibaba's marks have been attacked on several occasions, including non-use cancellations, invalidations and cancellations for becoming a generic term for goods and services
The six abovementioned marks have recently survived cancellations for becoming a generic term and five of them in Classes 35, 38 and 41 are still pending under invalidation proceedings and reviews on non-use cancellations.
However, it appears Alibaba has lost the prior registration for the following mark in Class 38 during a review on non-use cancellation proceedings (which has been published by CNIPA):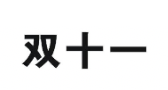 If the five other cited marks are removed, Alibaba would be in an unfavourable position. However, Alibaba can appeal this to defend its trademark registrations and keep its position in the lawsuit before the Beijing IP Court.
One point to note for trademark owners is that protecting trademark rights must begin as early as possible. This includes actions against third parties because any delay allows infringers to use or register marks, which makes it difficult to stop or remove those registrations. In this case, Alibaba did not initiate protection of its rights until 2014. This plays a negative role in the dilution of the distinctiveness of its trademark and, due to Alibaba waiting until 2014, DOUBLE 11 could be on the verge of becoming a generic term or may already have become one by this point in time.
It will be interesting to review the court's final judgment on this issue, as well as the others raised by this case.
This article first appeared on WTR Daily, part of World Trademark Review, in December 2019. For further information, please go to www.worldtrademarkreview.com